Betty Page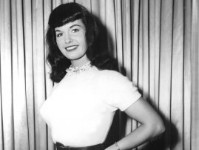 Real Name: Bettie Page
A.k.a: Betty Page
Submitted by: Bob Sacamano
Posted Date: 2008-12-12
Last Modified: 2019-12-19
n 1950, 27 year old secretary Bettie Page was approached by NY Policeman Jerry Tibbs to model for him.
When she found out how much modeling paid verus banging typewriter keys, she didn't need a degree in rocket science (although she did have a BA in the arts) to pursue that.
Throughout most of the decade, she posed for camera clubs around New York and Florida. She also made various silent films for the S/M market. She also tried her hand at mainstream films, but that never really solidified into a real career.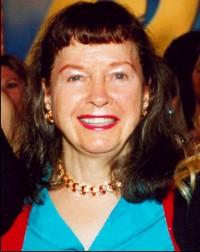 What happened to: Betty Page
In 1957, she retired from modeling. She spent several years in and out of mental institutes and suffered severe depression.
She became a born again Christian and worked with the Billy Graham ministries. In 1975, a cult following came about due to a book on her life and work in modeling.
A new generation "discovered" her. During the 1990's, another generation discovered her as the lead female character in a comic book and movie called The Rocketeer was modeled after her.
After the begining of the new century, two movies were made of her life. As popular as she was during her retirement, she chose not to have any photos taken of her in her later years. She felt her fanbase wanted to remember her as she was during the peak of her popularity. In November of 2008, Ms Page was admitted to the hospital for Pneumonia. After being hospitalized for three weeks, she was in the process of being released when she suffered a heart attack. She remained in a coma for 9 days before finally passing away on December 11, 2008.
As an Amazon Associate I earn from qualifying purchases.
Subscribe for latest updates
Betty Page