Carroll Baker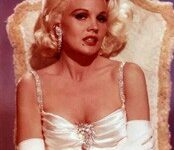 Real Name: Carroll Baker
A.k.a:
Submitted by: Bob Sacamano
Posted Date: 2004-05-21
Last Modified: 2019-12-17
In 1956 Carroll Baker became an overnight sex symbol following her portrayal of the dimwitted, naive,perverted teen-aged bride in the surprise hit Baby Doll. However, her next series of forgettable films did little to advance her celebrity. She actually had a remarkable comeback in 1964 in her portrayal of the money-hungry,blonde bimbo in the blockbuster the Carpetbaggers.
What happened to:
Marital, legal,and financial woes forced her to leave America in the late 1960s-she settled in Rome and starred in a series of soft-core, European,skin-flicks which provided a much needed "success" and "celebrity" throughout the foreign-film circles. Carroll returned to the American cinema in the 1980s. Playing motherly,character roles in films and TV movies.She lives in London with her third husband Donald Burton.
| # | Preview | Product | Price | |
| --- | --- | --- | --- | --- |
| 1 | | The Toxic Avenger Collection | $26.32 | Buy on Amazon |
| 2 | | Violent Streets: The Umberto Lenzi/Tomas Milian Collection (8-Disc Collector's Edition Box Set)... | $92.99 | Buy on Amazon |
As an Amazon Associate I earn from qualifying purchases.
Subscribe for latest updates
Carroll Baker