David Steele, Andy Cox ,and Roland Gift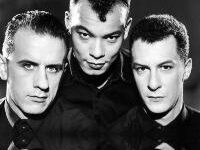 Real Name: David Steele, Andy Cox ,and Roland Gift
A.k.a: Fine Young Cannibals
Submitted by: Daniela
Posted Date: 2013-08-22
Last Modified: 2020-01-13
The band was created, in 1984, in Birmingham after the dissolution of, 'The Beat', with whom Cox and Steele were previously a part of. Steele and Cox spent eight months listening to over 500 cassettes of potential singers before settling on Gift. They had difficulty obtaining a record contract but when a video of their song "Johnny Come Home" appeared on British TV show called, 'The Tube', recording contracts were immediately offered. Fine Young Cannibals broke up in 1992, although they briefly returned to the studio in 1996 to record a new single, "The Flame".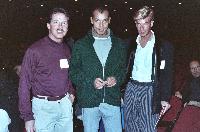 What happened to: Fine Young Cannibals
Gift reactivated the band name and toured in the 2000's as Roland Gift and the Fine Young Cannibals. Gift has also had minor role in the movie, "Lock, Stock and Two Smoking Barrels". Steele resides in London, England.Cox performed with Japanese vocalist, Yukari Fujiu, they released the album, 'Volume'.
References:
| # | Preview | Product | Price | |
| --- | --- | --- | --- | --- |
| 1 | | SOL DE JANEIRO Brazilian Bum Bum Cream 240ml | $48.00 | Buy on Amazon |
| 2 | | LEGO Marvel Infinity Gauntlet Set 76191, Collectible Thanos Glove with Infinity Stones, Adult... | $63.99 | Buy on Amazon |
As an Amazon Associate I earn from qualifying purchases.
Subscribe for latest updates
David Steele, Andy Cox ,and Roland Gift