Eddie the Eagle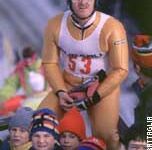 Real Name: Eddie Edwards
A.k.a:
Submitted by: Bob Sacamano
Posted Date: 2001-12-26
Last Modified: 2019-12-18
He was Englands first and only ski jumper, comprising the sole entry on the part of the UK in the Calgary winter Olympics in 1988.
He came in 56th out of a field of 57 (the 57th was disqualified), jumping 77 meters and somehow not killing himself.
Instant fame followed, but predictably, did not last.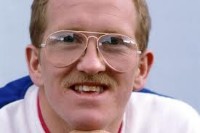 What happened to:
According to Asserta.com's "riches to rags" column, neither did his fortunes:
" The enormous media attention he attracted with his flailing arms, wobbling skis but plucky desire to jump (with only two seasons of professional experience) gave him a pot of cash totalling £87,000 in the weeks following his jump.
This he cannily built up into £385,000 by the end of 1988 with income from endorsements and sponsorship following saturation coverage in the nation's media.
The money wasn't to last and, amid press rumour that he had given it away to family and friends, he was declared bankrupt in 1992. The real reason for his financial demise, however, is more mundane – Edwards claimed that a trust fund designed to handle his earnings wasn't set up properly.
"
He attempted to revive his ski jumping career in the 90's but new minimum requirements on ski jumping denied him a berth in the 1998 Olympics. He currently works the lecture circuit, does advertisements and has a some sort of a musical sideline (a song featuring him apparently charting in Finland in the late 80's).
As an Amazon Associate I earn from qualifying purchases.
Subscribe for latest updates
Eddie the Eagle