Kelly LeBrock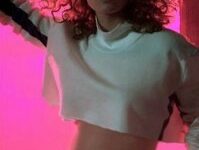 Real Name: Kelly LeBrock
A.k.a:
Submitted by: Bob Sacamano
Posted Date: 2010-02-14
Last Modified: 2019-12-17
Born in New York City and raised in London model/actress Kelly LeBrock was the Pantene spokesmodel that made the phrase "Don't hate me because I'm beautiful." popular in the 80's. She began her film career as the fantasy object of affection in Gene Wilder's The Woman in Red. The image of her in a red dress, served as an icon for the film. She played a fantasy creation in John Hughes' Weird Science. She was literally created by high school nerds Garry (Anthony Michael Hall) and Wyatt (Ilan Mitchell-Smith).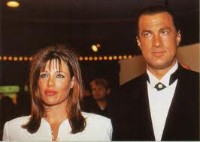 What happened to:
She married Steven Seagal(her bodyguard) and they had three children. They appeared in one film together (Hard to Kill) before their divorce in 1996. LeBrock worked intermittently in thrillers (Tracks of a Killer, Betrayal of the Dove) and softcore porn (Hard Bounty). She also worked as the object of Leslie Neilson'saffection in a few satires. LeBrockgave up her acting career in order to raise her children. In 2005 after expressing a desire to lose weight and restart her film career, LeBrockappeared on VH-1's Celebrity Fit Club 3. She was captain of the team "Kelly's Bellies".
| # | Preview | Product | Price | |
| --- | --- | --- | --- | --- |
| 1 | | John Hughes Yearbook Collection (The Breakfast Club / Sixteen Candles / Weird Science) | $11.74 | Buy on Amazon |
| 2 | | Zerophilia [DVD] | $8.99 | Buy on Amazon |
As an Amazon Associate I earn from qualifying purchases.
Subscribe for latest updates
Kelly LeBrock