Michael Parks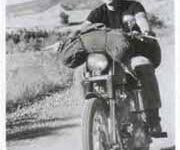 Real Name: Michael Parks
A.k.a:
Submitted by: Bob Sacamano
Posted Date: 2004-01-02
Last Modified: 2020-01-13
A reader requested this one, he was the star of a TV series called Then Came Bronson in 1969 (when I was two).

What happened to:
He's had an interesting life. He once turned down a pitching job in the baseball minors because he was making more money upholstering caskets (this may have happened prior to Then Came Bronson) and tried to qualify for the 1 mile run in the 1972 olympics. He appeared in a few other movies in the 70's which did not do much for his career (see the Leanard Maltin bio at IMDB). Most recently he played a sherrif in Quentin Tarrantino's "Kill Bill" He has had a parallel career in music which he is still active in fairly recently, with the 1998 release of Coolin' Soup, at the age of 58.
| # | Preview | Product | Price | |
| --- | --- | --- | --- | --- |
| 1 | | Guardians Of The Galaxy: Awesome Mix Vol. 1 [Cassette] | $12.98 | Buy on Amazon |
| 2 | | Kind Of Blue (Vinyl) | $22.99 | Buy on Amazon |
As an Amazon Associate I earn from qualifying purchases.
Subscribe for latest updates
Michael Parks