Punchy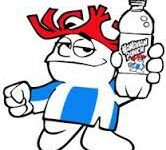 Real Name: Punchy, Hawaiian Punch's mascot
A.k.a: Punchy
Submitted by: Weiser
Posted Date: 2013-06-25
Last Modified: 2019-12-18
Advertising agency Atherton-Privett created the familiar Punchy character in December 1961. Artist Martin Mandelblatt is credited with the creation of Punchy, who appeared as a cartoon character on television for the first time in February 1962.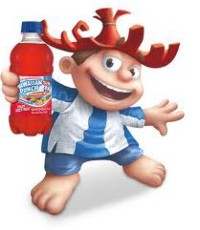 What happened to: Punchy
Punchy's actual catchphrase was "How about some nice Hawaiian Punch?"and would be followed by Punchy literally punching his next unsuspecting victim. The victim of Punchy's "shenanigans" in the initial commercials was a tourist character named Opie (sometimes referred to as Oaf). After Punchy said his catchphrase, Opie would reply with "sure," only to get punched in the face.
Punchy has evolved from the original design to the character seen today. He has refrained from punching things since 1990, but had a brief relapse in a 2003 advertisement that saw Punchy knocking people into walls at a fun house.
| # | Preview | Product | Price | |
| --- | --- | --- | --- | --- |
| 1 | | JBL Clip 4: Portable Speaker with Bluetooth, Built-in Battery, Waterproof and Dustproof Feature -... | $59.95 | Buy on Amazon |
| 2 | | Sony MDRXB55AP Wired Extra Bass Earbud Headphones/Headset with Mic for Phone Call, Black | $49.99 | Buy on Amazon |
As an Amazon Associate I earn from qualifying purchases.
Subscribe for latest updates
Punchy