Roscoe Conkling Arbuckle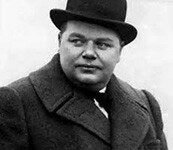 Real Name: Roscoe Conkling Arbuckle
A.k.a: Fatty Arbuckle
Submitted by: Bob Sacamano
Posted Date: 2004-05-02
Last Modified: 2020-01-13
Film star of yesteryear, starred in the original Brewster's Millions as well as Butcher Boy, working for Buster Keatonas well as writing some of his own scripts and later directed. Most notorious for "the incident" surrounding Virginia Rappe, a starlet who showed up uninvited to one of his parties, and then fell ill and died a few days later. Arbuckle was charged with rape and manslughter in connection with her death and tried no less than three times.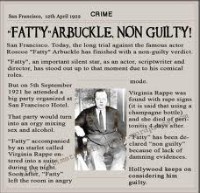 What happened to: Fatty Arbuckle
Although acquitted after the three trials, his career was pretty well ruined by the scandal (disproving the old adage "no such thing as bad press"). He directed a few comedies for the likes of Buster Keaton under the alias William Goodrich and starred in some comedy shorts for Warner Brothers in 1932. The shorts were successful and Warner signed him to a feature film contract, however Arbuckle died in his sleep at age 46, the night after he signed the contract.
References:
As an Amazon Associate I earn from qualifying purchases.
Subscribe for latest updates
Roscoe Conkling Arbuckle