Sale & Pelletier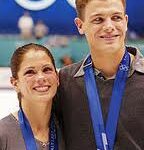 Real Name: Jamie Sale & David Pelletier
A.k.a:
Submitted by: Bob Sacamano
Posted Date: 2011-05-03
Last Modified: 2019-12-18
Canadians Sale & Pelletier became instant celebrities when their Silver medal performance at the 2002 Salt Lake City Olympicstouched off a judging controversy. Many people felt Sale & Pelletiershould have won the Gold and there were charges of vote buying. This story was jumped on my the American media and soon Sale & Pelletier were appearing on CNN, CBS, Good Morning America, The Tonight Show, Larry King Live, and did hundreds of other interviews. Eventually they were awarded the Gold medal after a week-long delay. Jamie Sale was born in Calgary, Alberta and David Pelletierin Sayabec, Quebec. They both started skating at the age of 3 and went through different partners before getting together in 1998. They went on to become Canadian Champions from 2000-2002 and won the World Championships in 2001.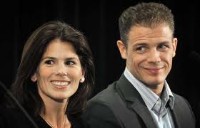 What happened to:
After the Olympics Sale & Pelletier turned professional and signed a four year contract to go on tour with Stars On Ice. Sale and Pelletiergot married in Banff, Alberta on Dec 30, 2005. When not on tour they reside in Red Deer, Alberta.
| # | Preview | Product | Price | |
| --- | --- | --- | --- | --- |
| 1 | | Paulas Choice--SKIN PERFECTING 2% BHA Liquid Salicylic Acid Exfoliant--Facial Exfoliant for... | $34.00 | Buy on Amazon |
| 2 | | Apple iPad (9th Generation): with A13 Bionic chip, 10.2-inch Retina Display, 64GB, Wi-Fi, 12MP... | $269.99 | Buy on Amazon |
As an Amazon Associate I earn from qualifying purchases.
Subscribe for latest updates
Sale & Pelletier