Sally Starr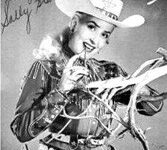 Real Name: Sally Starr
A.k.a:
Submitted by: Bob Sacamano
Posted Date: 2004-04-27
Last Modified: 2019-12-17
Otherwise known as Your Gal Sal rose to fame in the 50s & 60s hosting her own daily children's show Popeye Theatre which ran from 1949 to 1971. The glitzy, blonde cowgirl also appeared on radio and commercials, mostly in tags for "Gino's" restaurants. After the demise of her TV show in 1971 Sally moved to Florida and held various jobs while living in her "dream home" which she shared with her second husband Mark Gray.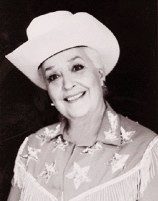 What happened to:
The much-loved and much remembered Sally Starr returned to the Philadelphia area in the 80s and continues to make personal appearances. She hosts a sunday morning country radio show while living locally in Atco, New Jersey.
As an Amazon Associate I earn from qualifying purchases.
Subscribe for latest updates
Sally Starr